Japan Style Sheet
SWET's first professionally produced publication is now available for distribution in Japan. Based on the 1983 edition, but presenting its advice in a new format, the revised edition will be useful not only to editors and writers, but also translators, researchers, and anyone working with writing that deals with Japan. The Japan Style Sheet sets down the main options for deciding how to handle italicization, macrons (long-vowel notation), capitalization, name order, and other knotty problems encountered in editing such manuscripts.
The publication of the JSS was made possible by the efforts of a large number of SWET members and is a symbol of the activities SWET has pursued over its 18-year history, endeavoring to raise professional standards among writers, editors, translators and others working with the English word in Japan.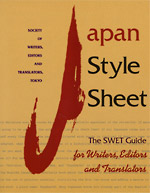 Author: SWET (Society of Writers, Editors, & Translators)
Published by Stone Bridge Press
Publication date: May 1998
Paperback, 80 pages
Dimensions: 7 1/4 x 9 in.
ISBN: 1-880656-30-2
"The Japanese Chicago Manual. . . . This is a terrific little book." - Karen Judd, author, Copyediting: A Practical Guide
The long-awaited revised edition of the Japan Style Sheet is now available. It's a slim booklet, only 80 pages long, but packed with advice and information answering questions often asked in offices and on Internet mailing lists. The appendices provide handy tools for fingertip reference. Purchase one for your desk and buy copies for your friends and clients. Here are the main headings from the table of contents:
Tips for the Nonspecialist
Transliterating Japanese
Romanization Systems
Long Vowels
Long Vowels on the Internet
N or M: Shinbun or Shimbun?
Apostrophes
Hyphens
Matters of Style
Italics
Personal Names
Place Names
Capitalization
Plurals
Loanwords
Note, Bibliography, and Index Styles
Appendices
Hepburn Orthography
Prefectures, Provinces
Numbers
Units of Measure
Imperial Reigns and Historical Eras
Modern Era Conversion Chart
Principal Periods of Japanese History
Further References
Internet Resources
Index
About SWET
The Japan Style Sheet can be obtained through any bookstore (see ISBN at top of page). It's also available directly from the publisher Stone Bridge Press. Japanese bookstores that carry foreign books may have copies in stock. Distribution in Japan is handled by Yohan and Tuttle Shokai.